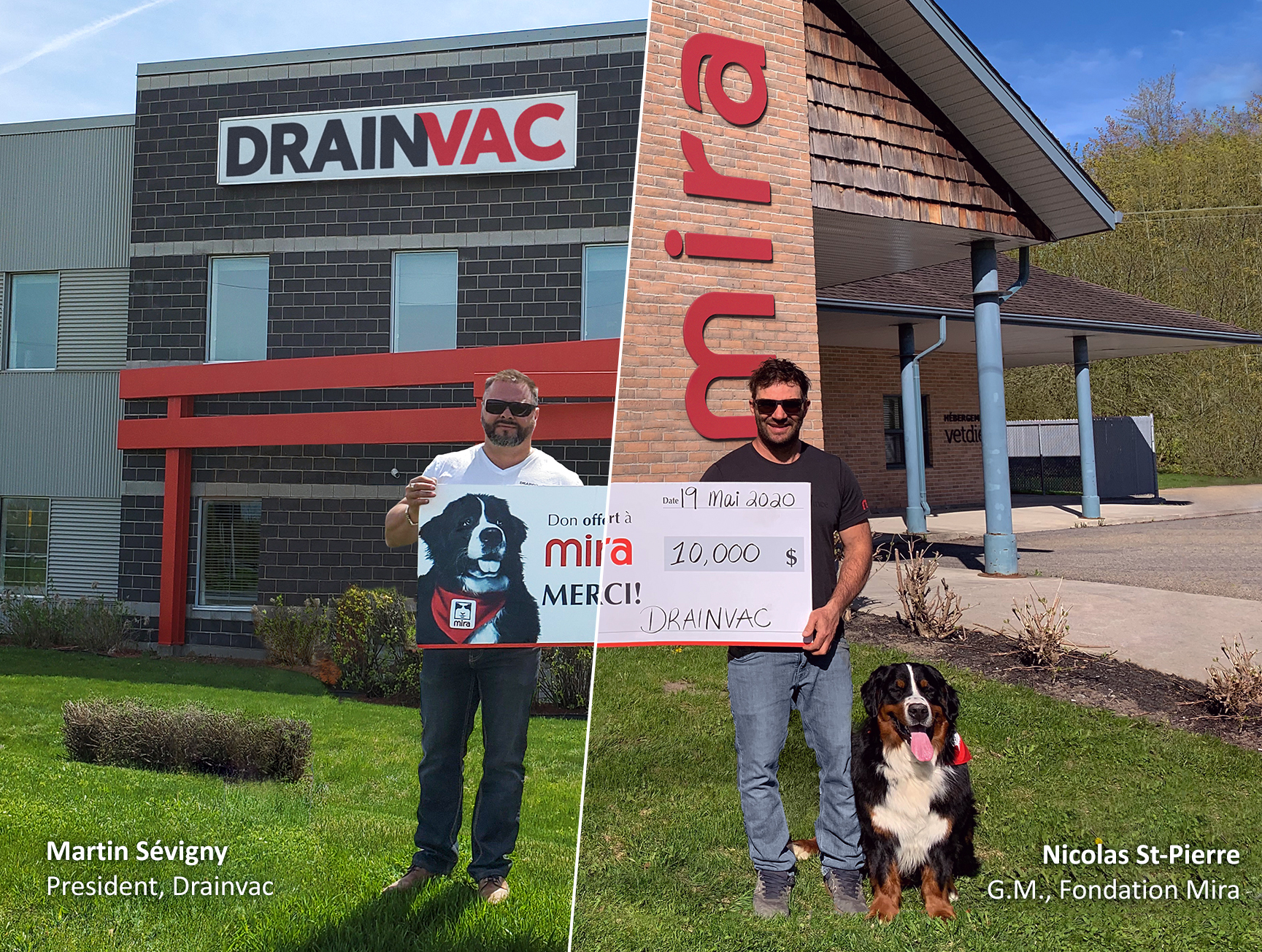 In this pandemic time and despite the social distancing directive, Drainvac is proud to continue offering its support to the Mira Foundation by giving them a check of $10,000.
Indeed, the collaboration between Drainvac and Mira is not a recent practice. In 1986, Clémence Bahl and Roger Boucher, Drainvac retailers in Saint-Hyacinthe, were the first ones in the business to promote the Mira Foundation. At that time, they were already involved at different levels, whether by organizing a fundraiser, by being involved in different events, by volunteering and by offering free labour and maintenance on the Drainvac system installed at Mira.
The first Drainvac unit was installed in 1986, in the beneficiaries' laundry room. Several years later, another system was installed in the new rooms. Our involvement increased when Conrad Sévigny (founder) and Martin Sévigny (actual president) started to participate in Mira events such as the Défi-Vision and the MusiqueFest in recent years. We've also been reserving a dedicated space to fund raise during our annual "Open Door" sale since 2014.
In 34 years of collaboration, our most successful engagement is without a doubt the creation of the Mira line. An amount is collected for every Mira unit sold, and each year, we increase the amount obtained in order to hand a check of $10,000 to the Mira Foundation. Since its launch in 2014, a sum of $60,000 was donated, equivalent to two Mira dogs!
The picture, taken at two different times and places, shows that despite the distance and the present context, it is always possible to support and help each other. Non-profit organizations like the Mira Foundation are in particular need of your support at this time. Please give generously! https://www.mira.ca/en/