Drainvac currently produces three models of these bagless vacuums that trap dirt at the bottom of their canister.
Vacuum Cleaners for Liquids and Solids
Drainvac's Cyclonik series is a hybrid system where some models can even vacuum liquids.
The models in this series: the DV1R800, the DV1R12-CT and the DV1R15-CT are all bagless. They are equipped with a large capacity tank and a permanent filter.
Their impact-resistant polypropylene casing is made in Canada and are lifetime warrantied. They come with an AudioProtek muffler that reduces the noise that comes with the high frequencies emitted by the vacuum.
The DV1R800 is the basic model of the Cyclonik series. It is designed to vacuum dry materials only. It has a power of 800 AW and the noise emitted by its motor does not exceed 60 decibels.
Finally, the DV1R15-CT is our most powerful Cyclonik model, powered by two 355 AW motors which operates on a 30 A circuit. Its cartridge filter provides optimal air filtration and protects the motor from fine dust.
If you are looking for a hybrid system that allows you to vacuum both liquids and solids, without having to change bags, and that offers optimal performance, the Cyclonik series is made for you. Available in three models, they meet your power needs and your budget!
If you live in Canada, you can purchase Cyclonik models online here : https://www.drainvac.com/ca/en/residential/cyclonik/ or at one of our many retailers : https://www.drainvac.com/ca/en/retailers/find-a-retailer/
If you live in the United States, follow this link : https://www.thinkvacuums.com/central-vacuums/drainvac/
You can also compare the models by referring to the grid below :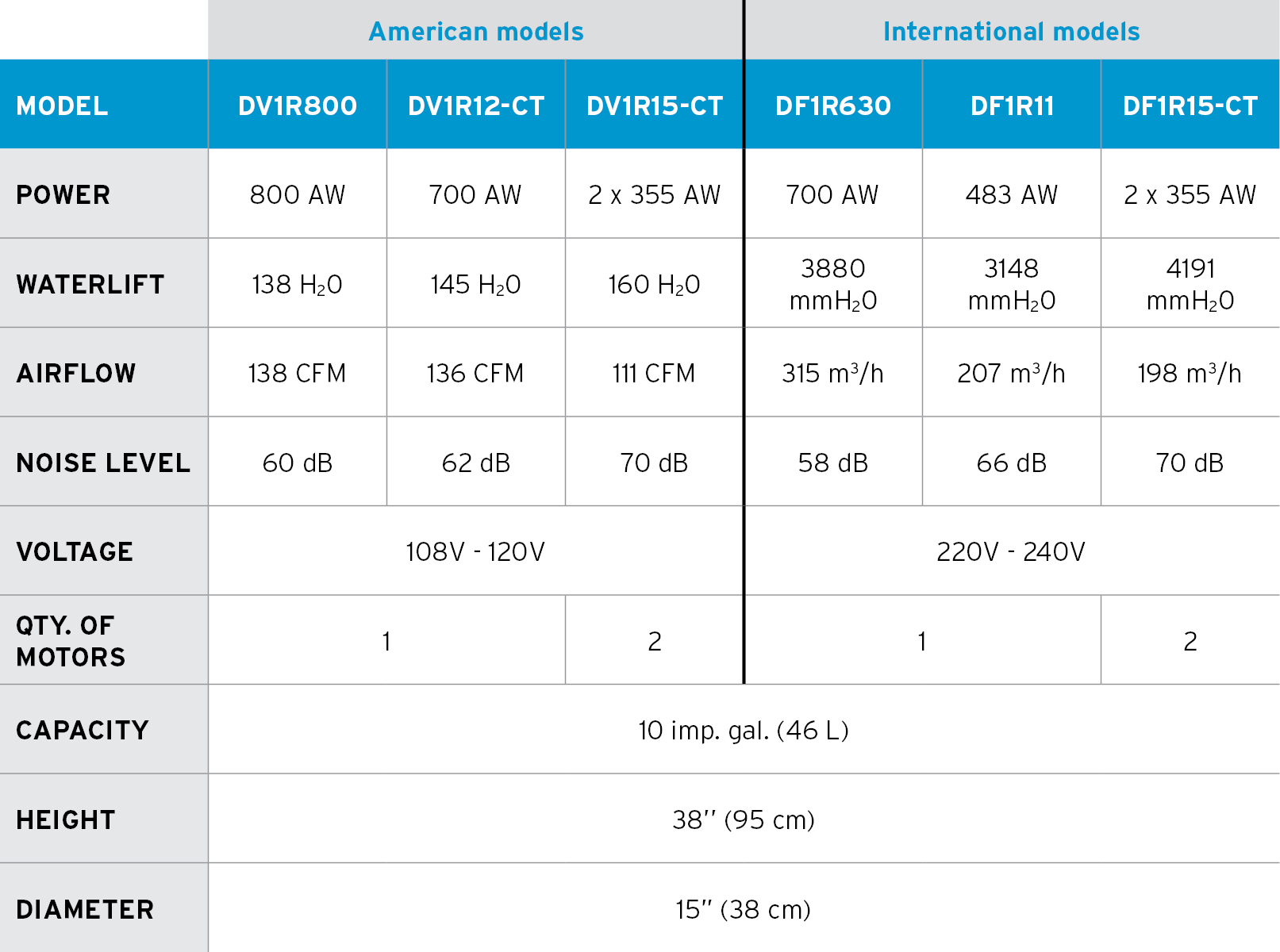 Everything About Cyclonic Central Vacuums
This causes an air cyclone to form when the unit is operating. The vacuumed materials that have previously passed through a filter will be trapped in the vortex and the heavier particles will fall to ...
See more
How to choose a central vacuum?
You'll want to choose a machine with more power if you have a lot of carpets in your home, a long hose, or if your plumbing configuration is different. Most guides make the mistake of only considerin...
See more