Whether you choose to exhaust indoors with a filter or to exhaust outdoors with a muffler, you will not be disappointed by your vacuum's performance. However, each exhaust option have their own specific advantages which are to consider when choosing your central vacuum system, despite equal prices.
Filter advantages
By choosing a filter, you will exhaust inside the house. The main advantage of this option is its simple installation: no need to drill into the walls or to modify the piping network as the filter is attached directly onto the central vacuum unit. The home's air quality is not affected due to the efficiency of the Activac 3 filter, which holds up to 99,97% of harmful waste to the ambient air. We recommend a filter replacement every year for an optimal performance. The filter is not compatible with all of our central vacuum systems, as demonstrated by this chart: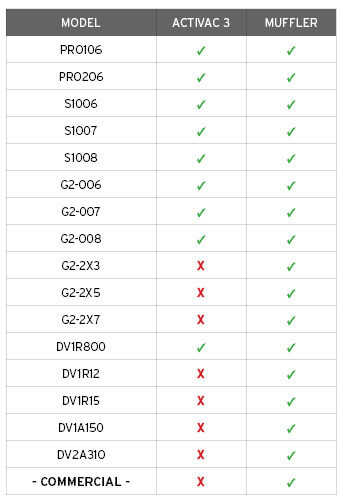 Muffler advantages
By choosing a muffler, you will exhaust outside the house. The muffler is compatible with all Drainvac vacuum systems. It never needs to be replaced as it does not deteriorate over time and it allows more air to exit the device, thus ensuring an optimal system performance.
Finally, filter or muffler? In both cases, you will benefit from a performing vacuum. However, think about evaluating your needs correctly to make the right choice between the two options. For more information, don't hesitate to contact us as it will be our pleasure to help you.